Neighbourhood Watch/Kent Police

CLICK FOLLOWING LINKS
Useful Documents
Safety guidance for delivery drivers
No trick or treat poster with advice
Fireworks poster – know the law
Winter and Christmas Support 2021-2022
March 2022 PCSO Update
February 2022 PCSO Update
December 2021 PCSO Update
November 2021 PCSO Update
October 2021 PCSO Update
August 2021 PCSO Update
July 2021 PCSO Update
June 2021 PCSO Update
May 2021 PCSO Update
April 2021 PCSO Update
March 2021 PCSO Update
February 2021 PCSO Update
January 2021 PCSO Update
December 2020 PCSO Update
November 2020 PCSO Update
October 2020 PCSO Update
September 2020 PCSO Update
August 2020 PCSO Update
July 2020 PCSO Update
Kent PCC's Spring Newsletter 2022
Kent PCCs Newsletter Budget Plan
Kent PCCs Newsletter Rural Campaign Newsletter
Kent PCCs Newsletter Violence Against Women and Girls
Rural Matters Summer 2021
Rural Matters September 2021
Rural Matters July 2021
Rural Matters May 2021
Rural Matters March 2021

Crag Report November 2021
Crag Report September 2021
Crag Report July 2021
Crag Report May 2021
Crag Report March 2021
Counter Terrorism Bulletin and Policing (February 2021)
Counter Terrorism Bulletin and Policing (April 2021)
Counter Terrorism Bulletin and Policing (May 2021)
Counter Terrorism Bulletin and Policing (May 2021) 2
Counter Terrorism Bulletin and Policing (June 2021)
Counter Terrorism Bulletin and Policing (June 2021) 2
Counter Terrorism Bulletin and Policing (June 2021) 3
Counter Terrorism Bulletin and Policing (July 2021)
Counter Terrorism Bulletin and Policing (July 2021) 2
Counter Terrorism Bulletin and Policing (November 2021)
STOP LOAN SHARKS NEWSLETTER January 2021
Latest Information from Kent Fraud Alert System January 2021
Latest Information from Kent Fraud Alert System January 2021(2)
Latest Information from Kent Fraud Alert System January 2021(3)
Latest Information from Kent Fraud Alert System February 2021
Latest Information from Kent Fraud Alert System February 2021(2)
Latest Information from Kent Fraud Alert System February 2021(3)
Latest Information from Kent Fraud Alert System March 2021
Latest Information from Kent Fraud Alert System March 2021 (2)
Latest Information from Kent Fraud Alert System March 2021 (3)
Latest Information from Kent Fraud Alert System April 2021
Latest Information from Kent Fraud Alert System April 2021 (2)
Latest Information from Kent Fraud Alert System April 2021 (3)
Latest Information from Kent Fraud Alert System May 2021
Latest Information from Kent Fraud Alert System May 2021 (2)
Latest Information from Kent Fraud Alert System May 2021 (3)
Latest Information from Kent Fraud Alert System 01.09.2021
Latest Information from Kent Fraud Alert System 15.09.2021
Latest Information from Kent Fraud Alert System 27.09.2021
Latest Information from Kent Fraud Alert System October
Latest Information from Kent Fraud Alert System October (2)
Latest Information from Kent Fraud Alert System October (3)
Latest Information from Kent Fraud Alert System October (4)
Latest Information from Kent Fraud Alert System November
Latest Information from Kent Fraud Alert System November 2021
Latest Information from Kent Fraud Alert System January 2022
Latest Information from Kent Fraud Alert System January 2022 (2)
Latest Information from Kent Fraud Alert System January 2022 (3)
Latest Information from Kent Fraud Alert System February 2022
Latest Information from Kent Fraud Alert System March 2022
Latest Information from Kent Fraud Alert System March 2022 (2)
Latest Information from Kent Fraud Alert System March 2022 (3)
Latest Information from Kent Fraud Alert System April 2022
Latest Information from Kent Fraud Alert System April 2022 (2)
Latest Information from Kent Fraud Alert System May 2022
Latest Information from Kent Fraud Alert System May 2022 (2)
Organised Crime Newsletter May 2022
Rogue Trader Poster February 2022
Latest Information from National Fraud Intelligence Bureau October 2020
Latest Information from National Fraud Intelligence Bureau October 2020 (2)
Latest Information from National Fraud Intelligence Bureau June 2021
Latest Information from National Fraud Intelligence Bureau July 2021
Latest Information from National Fraud Intelligence Bureau November 2021
NATIONAL TRADING STANDARDS SCAMS APRIL 2022
NATIONAL TRADING STANDARDS SCAMS(2) DECEMBER 2021
NATIONAL TRADING STANDARDS SCAMS(1) DECEMBER 2021
Anti-Social Behaviour Newsletter
NATIONAL TRADING STANDARDS SCAM MARSHAL NOVEMBER 2021 NEWSLETTER
NATIONAL TRADING STANDARDS SCAM MARSHAL OCTOBER 2021 NEWSLETTER
NATIONAL TRADING STANDARDS SCAM MARSHAL SEPTEMBER 2021 NEWSLETTER
NATIONAL TRADING STANDARDS SCAM MARSHAL MARCH 2022 NEWSLETTER
NATIONAL TRADING STANDARDS SCAM MARSHAL MAY 2022 NEWSLETTER
---
Crime Prevention
It is in all our interest to find willing parties among our residents to carry out small daily duties like observation. Prevention is better than cure in respect of having to put better locks on windows and doors. Observing any strangers in the vicinity of your abode! For those of us left at home on retirement, this can be an everyday task without taking you too far away from your normal routines and will be a great help. Our good ladies with children at home could be informative on any strange out of the ordinary goings on.
If you are worried and feel that there is need of the Police, but it is not an emergency, you can ring 101. This will get you the Kent Police. Please take a reference number from them and give it to me and I will record it. Of course if you think that a crime is taking place, then ring 999 for a quick response.
NHW needs you, we will be most grateful for your help. Thank you,

NEIGHBOURHOOD WATCH ALERT MESSAGE CALL 101 & REPORT TO POLICE IF YOU EXPERIENCE THIS.
or CRIMESTOPPERS 0800 555 111

Action Fraud

---
South East Cross-sector Safety & Security Communications (CSSC) newsletter.
---
SALUS – Improving the Lives of Children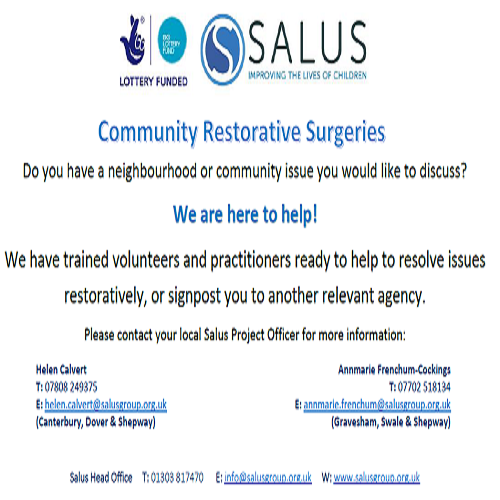 ---
Speed Watch
Skate Park Incident