About Capel-le-Ferne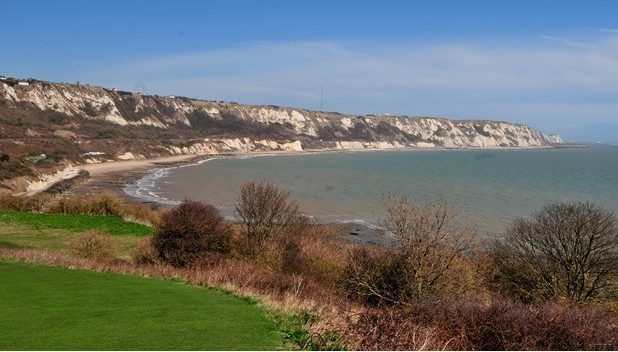 Notices
Protect Yourself and Respect Others
NEWS FROM THE PLAYING FIELD ...
PLEASE SHARE and PASS ON TO ANYONE WHO USES OUR FIELD and EQUIPMENT.
===========================================
It is lovely to see many enjoying the facilities at our Recreation Field, Lancaster Avenue, Capel-le-Ferne. As we can now continually monitor regularly, by remote WiFi, the activities via our new and additional CCTV high definition cameras on site, we are especially pleased to see many Keep-Fit groups and individuals in the fresh air, making use of our Outdoor Gym Equipment and Children/Youth in the Skate-Park and other areas.
We hope you all enjoy your time at the Recreation Field and politely request that everyone respects the equipment for others to use, as it costs a large portion of Parish Council Precept funds (Residents' Council Tax), to keep it maintained to a high standard.
===========================================
We regularly monitor CCTV footage and there are a few factors that Councillors have recorded to draw to your attention, especially if you use the area in any way, or please share with those you know that do.

• The junior play area (swings, climbing frame and roundabout etc.,) are for children up to 12 years of age. Older youths should refrain from using.
• Please resist climbing on top of the teen shelter, multi-use goal ends or swing units. They are fairly high and the Parish Council can not be responsible for injury caused if you fall.
• Please respect the fences and benches, these should not be used as props for exercising, i.e. jumping off and on, or attaching restraint bands. This could have the effect of weakening the foundations that attach them to the ground surface.
• Please endeavour to close the gates on the Skate-Park and Junior Play Area.
These are just a few items noticed this week whilst observing use.
All our equipment is regularly monitored by our trained Councillor. Defected or damaged items are reported and repairs carried out accordingly.
===========================================
PROTECT YOURSELF and RESPECT OTHERS.
* If the playground is busy, consider coming back at a later time.
* Talk to your children about this possibility before visiting.
* Wash your hands and your children's hands before and after visiting.
* Follow and adhere to all current government advice in addition to the above guidance.
===========================================
Please put your litter in the bins. If bins are full, please take your litter home.
===========================================
The Parish Council appreciate your help to please respect the area for your enjoyment and that of others. If you notice equipment defects, please report to 01303 259564.
===========================================
THANK-YOU
Recreation Ground/Playing Field, Lancaster Avenue, CT18 7LX
FOR INFORMATION
The Parish Council welcome "Village Hall Users" to use the field for games, the play equipment and skate park, though they are reminded that it is a public area, owned by Dover District Council and Leased to Capel-le-Ferne Parish Council.
Therefore, for anything other than normal use of a public park, the Parish Council should be approached for permission for special activities. Use of inflatables on the Playing Field are subject to approval by Councillors and users written agreement to abide by Rules and Regulations issued by Dover District Council.
The Parish Council request that NO Barbecues are used
for Health and Safety reasons.
DOWNLOAD COPY OF REQUEST/AGREEMENT FOR SPECIAL ACTIVITIES ON PLAYING FIELD, LANCASTER AVENUE, CAPEL-LE-FERNE, CT18 7LX
HELP KEEP OUR VILLAGE LOOKING CLEAN & TIDY.
LITTER PICK, IF YOU ARE OUT AND ABOUT, I.E., WALKING THE DOG OR CHILDREN, IT WOULD BE EXTREMELY HELPFUL IF YOUR COULD TAKE A PLASTIC BAG & OLD PAIR GLOVES AND COLLECT ANY LITTER SEEN AND DISPOSE OF IT IN THE RUBBISH BINS AROUND THE VILLAGE OR TAKE IT HOME FOR YOUR BIN.
The Parish Council are requesting your assistance in the following ways to
MAKE OUR VILLAGE A MORE PLEASANT ENVIRONMENT TO LIVE & VISIT
If you put up posters for events, or any other purpose (e.g. lost animals etc.) on poles or trees, please could we request you also take them down afterwards!
Also, could we request that posters are NOT displayed on the "outside" of the Parish Noticeboards, the sellotape residue left is proving difficult to remove and spoiling the perspex surface. This will eventually impair the reading of other posters inside. If this continues, the perspex will require replacing at Parish Council cost, from the Parish Precept received from resident's Council Tax. The Parish Clerk is more than willing to display organisation's events inside the noticeboards on request, providing there is space and time available.
Dog Fouling is an on-going issue in the area and an un-necessary occurrence by inconsiderate dog owners. Please can we request some very inexpensive "plastic bags" are obtained and everyone picks up after their dogs, disposing of it in the numerous waste bins around the village, or take it home! More information or report a problem contact: Dover District Council Environmental Crime, 01304 872289. Customer Services: 01304 872428. Email: [email protected] or Report on-line http://www.dover.gov.uk/Environment/Environmental-Crime/Dog-Fouling.aspx
This would be very much appreciated by us all.
THANK YOU.