QUEEN'S PLATINUM JUBILEE 2022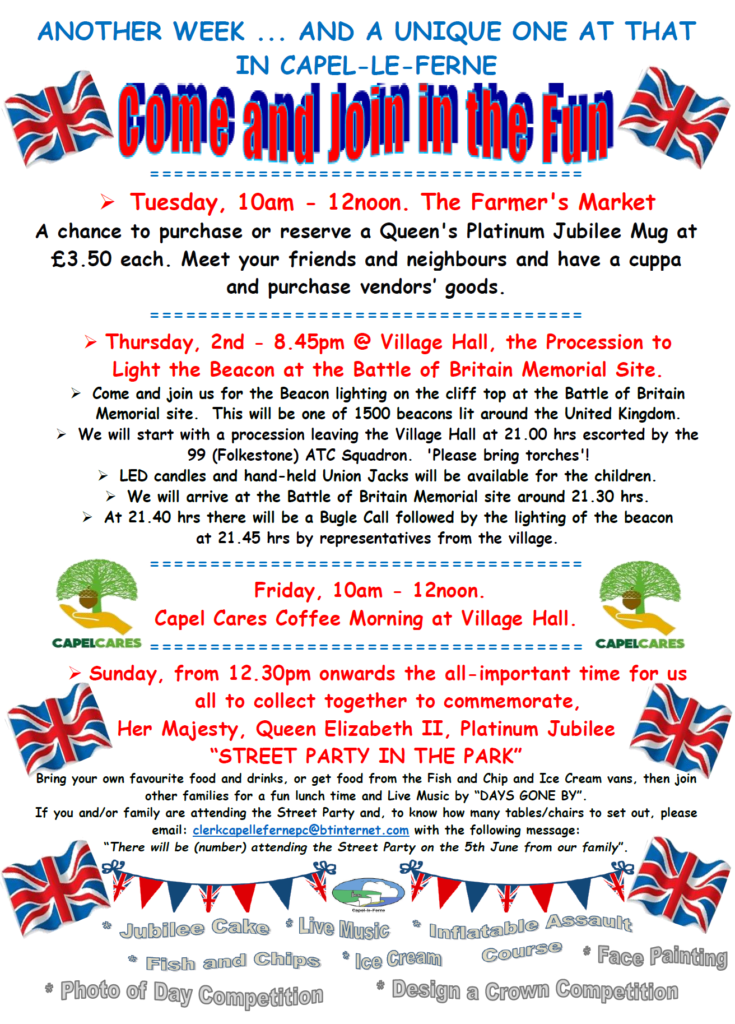 NEW COMPETITION FOR THE DAY!
YOUR BEST PHOTO ON SUNDAY, 5th JUNE
QUEEN'S PLATINUM JUBILEE "STREET PARTY IN THE PARK"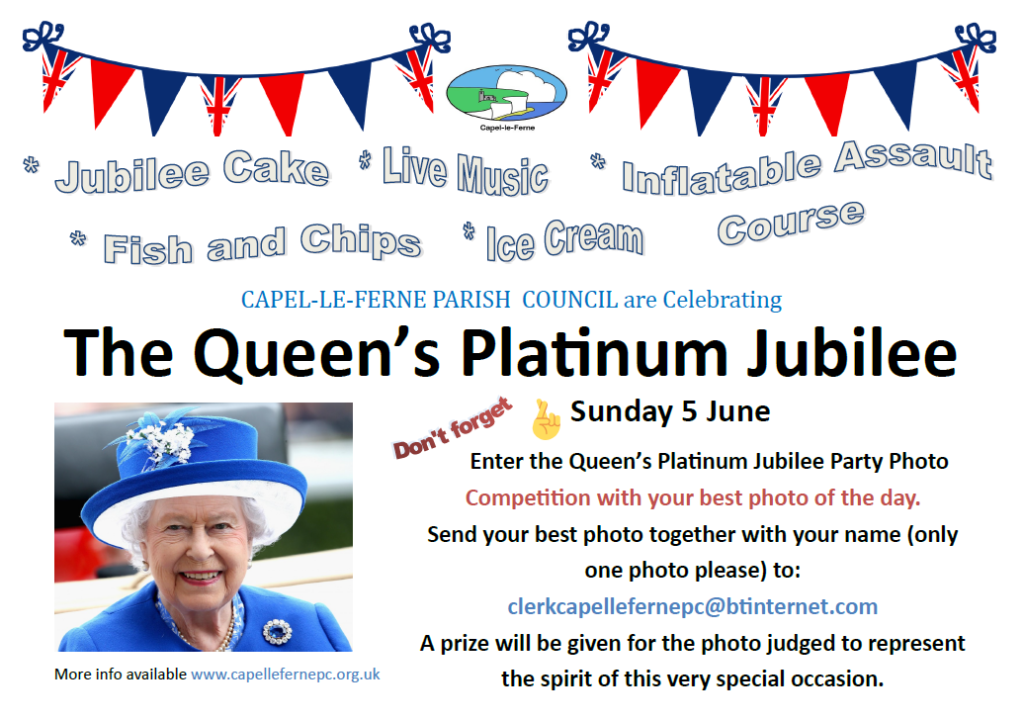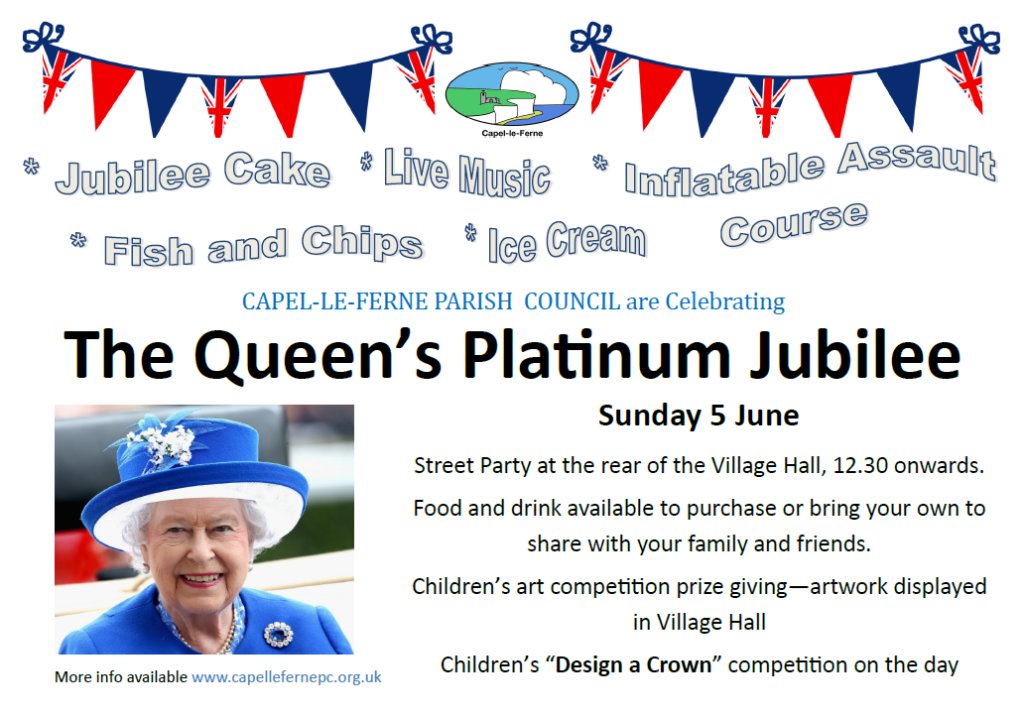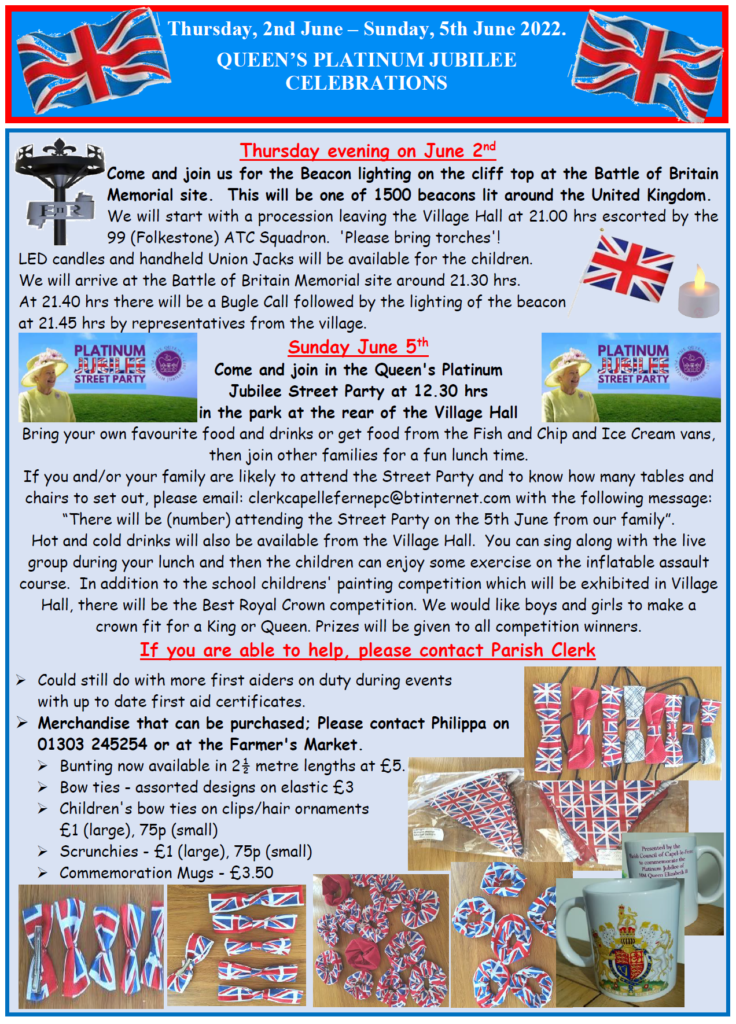 Drawing Competition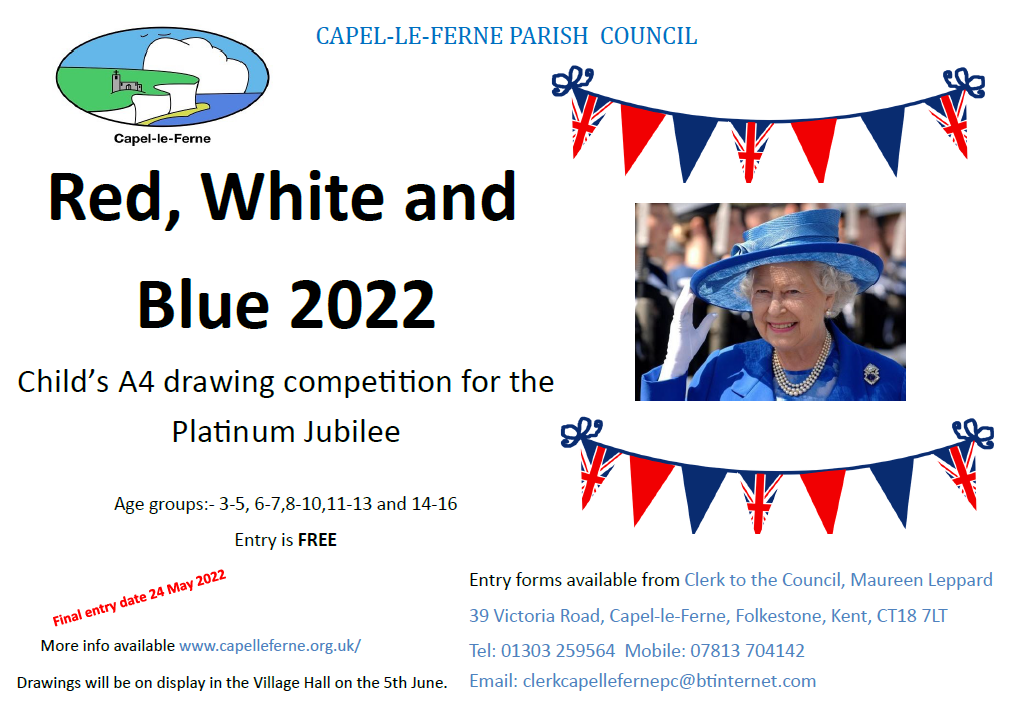 The school is entering this competition and other organisations!
If your child attends any of these,
they will have the opportunity to enter anyway.



Crown Competition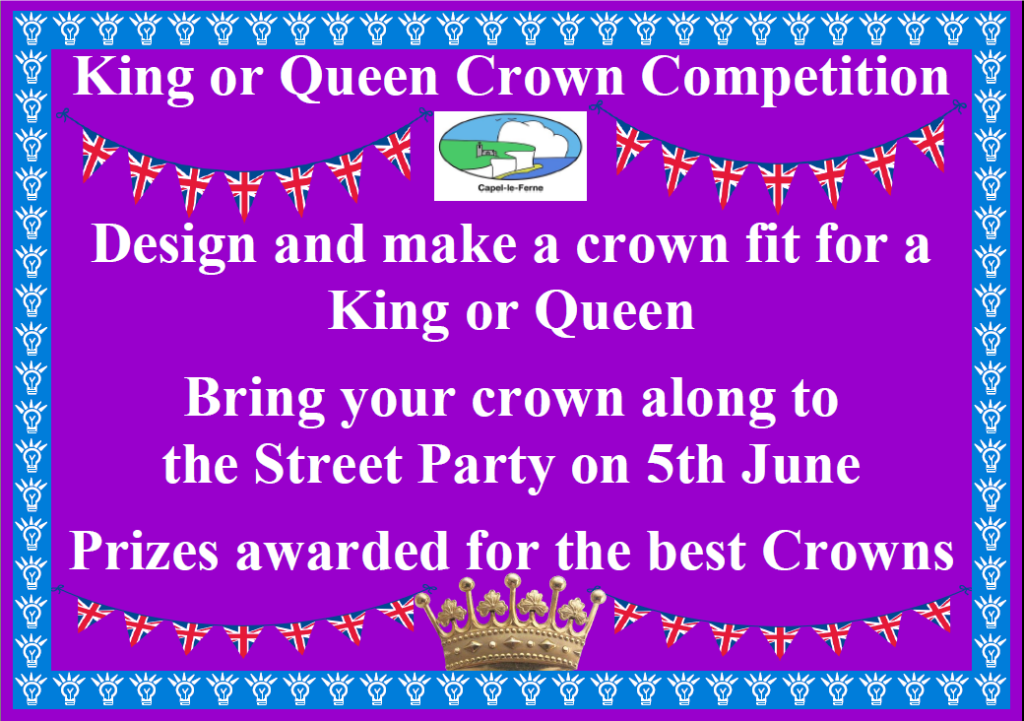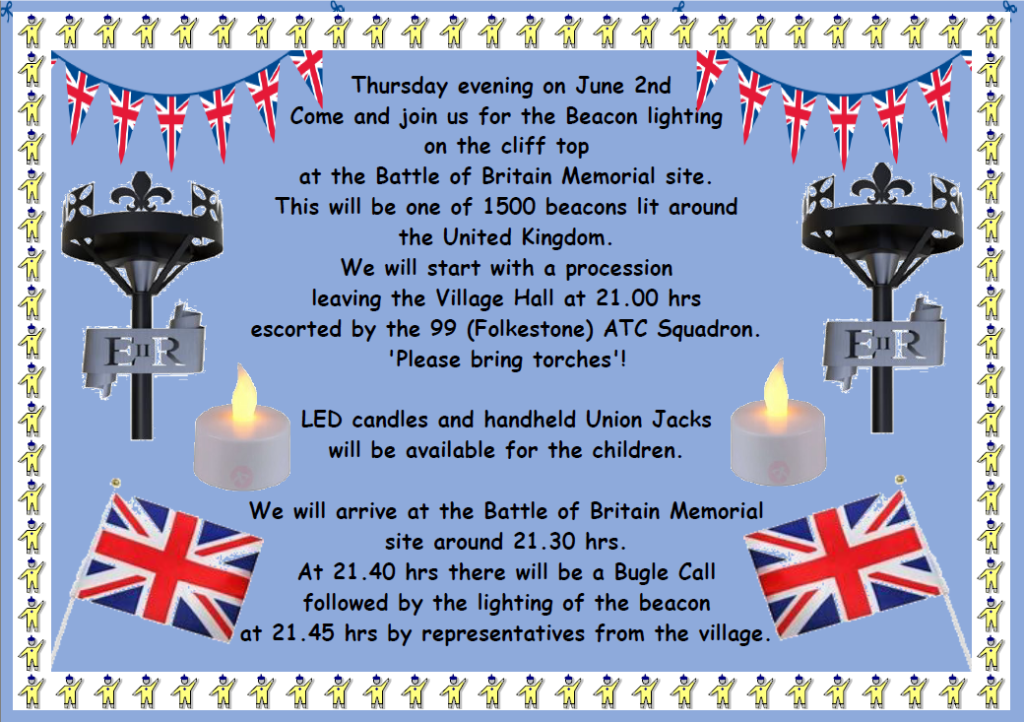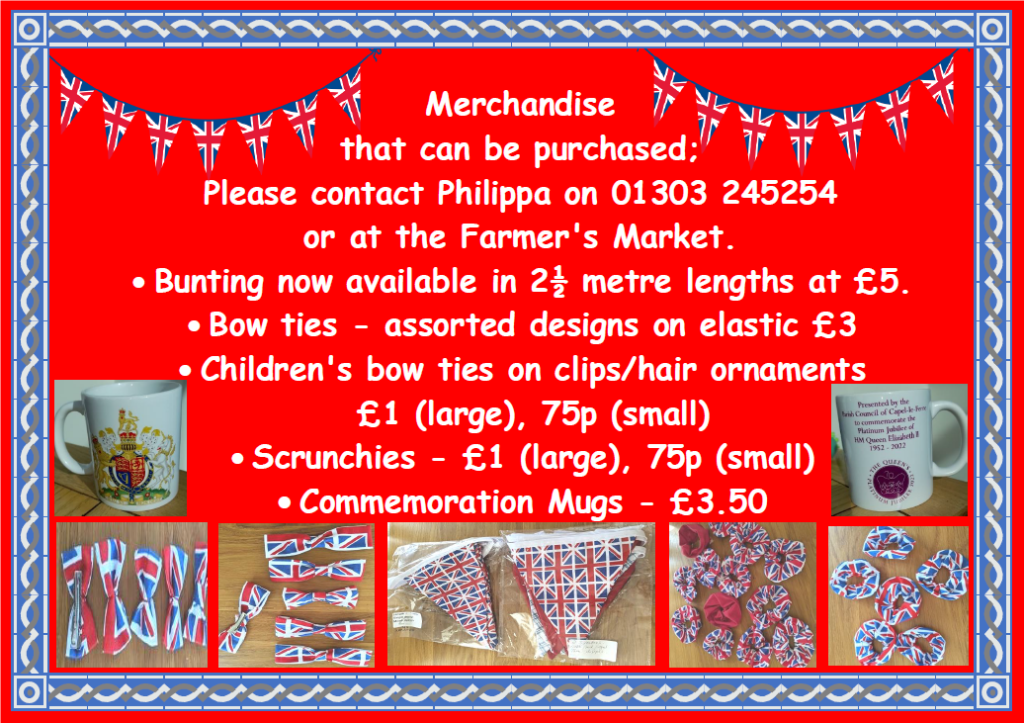 Thursday evening on June 2nd
Platinum Jubilee Beacons:
The United Kingdom's long tradition of celebrating Royal Jubilees, Weddings and Coronations with the lighting of beacons will be continued to mark the Platinum Jubilee. Over 1,500 beacons
will be lit throughout the United Kingdom.

In the Parish of Capel-le-Ferne, The Battle of Britain Memorial Trust are organising a beacon to be lit on the site. The Parish Council together with other organisations in the village plan to have a candlelight procession from the Village Hall to the Battle of Britain Memorial Site.
The program will be as follows:
The plan is to assemble at Capel Village Hall car park from about 20.45 pm.
Here LED candles and handheld Union Jack flags will be distributed.
21.00 – 21.10 pm.
The procession will leave the car park between following the route used on the previous occasion using Victoria Road.
The Council are delighted that the procession will be escorted by the 99 (Folkestone) ATC Squadron.

* 21.30 pm Arrival at the Battle of Britain Memorial Site.
* 21.40 pm Bugle Call
* 21.45 pm Lighting the Beacon



Sunday, June 5th
Street Party

:
A street party will be held in the Village Hall car park from 12.30 pm.
You can come along with your own food and drink, enjoy some live music, competitions and an inflatable for the children.
Fish and chip and Ice Cream Vans will be in attendance.