Tuesday, 16th April 2019 – Presentation of Awards to:
Capel Cares
Frederick Scales
Brian Tutt
---
Capel-le-Ferne resident recognised in Queen's 90th Birthday Honours List

MICHAEL PAUL MARSHALL
has been awarded the BEM – British Empire Medal, for services to the community in Capel-le-Ferne.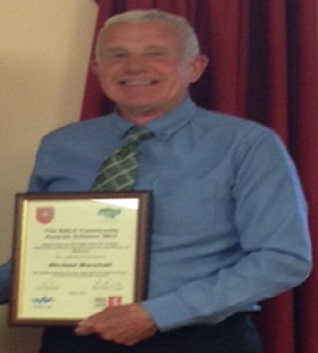 CONGRATULATIONS MICK, FROM US ALL!
The Parish Council enquired with Mick Marshall on a "village celebration" to commemorate his BEM Award. Mick has requested that he would prefer a donation is made from the Parish Council towards providing a Water Well in Malawi which Pam Barr of the Baptist Church is fund-raising towards.  This has been agreed by Councillors and an amount of £250 will be given.
"Village Commemoration" BEM Award for Mick Marshall
I first went to Africa about 9 years ago. On that visit I stayed in the guest house where our cook had malaria. I had never seen anyone with malaria before, he was so ill but had to keep working to feed his family. No sick pay in Uganda. When I came home I decided to raise money for mosquito nets. Now I am retired I make tote bags and sell them to raise money for nets. I have now been to Africa four times. On my last visit my friend and I worked at a centre for trafficked children, redecorating the bedrooms and the dining room. We stayed with the manager in his bungalow where we met Peter. Peter was trafficked as a 12 year old. Taken from his family in Malawi to work on a farm in Zambia. Thankfully someone recognised him as not "local" and reported the fact to the police. After contact between Police and Social Service and the Salvation Army, Peter was repatriated back to Malawi where he stayed in the Salvation Army's centre for trafficked children. Now aged 23 he has a dream. He wants to be a farmer. Lin and I spent time talking to Jimmy, the Centre manager, about Peter's dream; and we felt that we could help him realise that dream. Land in Malawi is cheap compared to England. £150 will buy an acre of land. For a viable small holding you would need 10 acres – £1,500 plus money to equip the farm and buy seeds etc. But a borehole to ensure that when the droughts come, as they inevitably do come in Malawi, the land could be irrigated would cost £3,250. More than the cost of the land! Thanks to so many generous people we have purchased the land, and sent Peter on a couple of placements to learn how to farm. Now we are raising funds for the borehole. Once Peter had been told by Jimmy what we were planning to do, his immediate response was "now I know there is a God, and I promise that I will always employ other trafficked young men on the farm, to help them get started in life, just as I have been". Once we have raised the money for the borehole – we are getting there – we want to help a girls' school in Blantyre to get water on site for a toilet block. There are 1300 girls in the school and only 2 toilets. I have two toilets in my house!
I am so grateful to Mick for suggesting that money, which the village would have used to give him a party, should come to Project Peter.  This just reinforces what a wonderful man he is and so deserving of his honour.
Many many thanks, Pam Barr, Capel-le-Ferne Baptist Church.
HONOURS CITATION